LaaS is More: Reevaluating Staffing Models and Improving Lab Workflow
Lab manager are using different staffing models to help reduce costs and accelerate their lab's workflow.
Staffing agencies
Managed services provider
Contract outsourcing
Lab as a service (LaaS)
Like all decisions in a lab, managers have to review all sides of the task – and consider both the long and short ROI.
Staffing agencies ease the HR burden of identifying, recruiting, and vetting talent, as well as handling H-1B visa applications. Lab staff can be hired on a contingency or permanent basis, as contract, contract-to-hire, or direct-hire staff, giving pharmaceutical companies the flexibility to scale up or down. Staffing agencies also can dig deeper into the talent pool to find specific skills. Once the employee is placed, of course, the direct (day-to-day) oversight of these employees generally falls to the lab manager.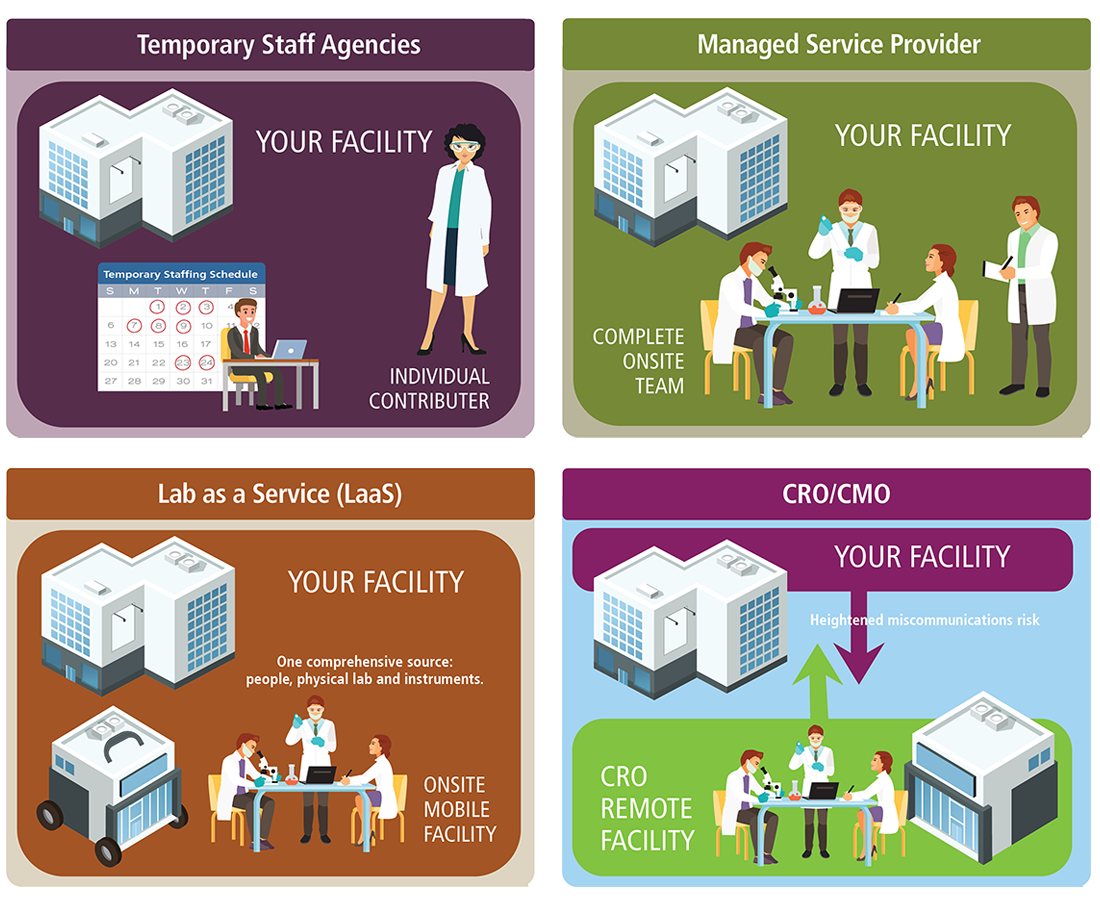 Often referred to as insourcing, another widely adopted staffing model involves a managed services provider (MSP). Like an agency, an MSP will source the talent, however, they maintain the end-to-end responsibility for the scientists and technicians placed into your lab.
This lowers your lab manager of direct oversight over these employees WITH the added perk of a tightly negotiated service level agreement (SLA) that outlines scope of work expectations which may increase confidence in achieving the desired outcomes of the new scientists and staff.
Contract research organizations (CRO) remain a viable option for pharmaceutical efficiency. CROs, which externalize the work by performing services within their own facilities, assist with clinical trials, as well as performing lab-specific procedures such as testing and analytics. While CROs have their own quality policies, methods, and protocols, they can adapt to your methods and protocols – which may take some extra time.
This model is not without drawbacks, which is why many pharmaceutical companies are choosing to explore other staffing approaches. Initial savings can sometimes be lost later due to the cost of doing business outside your "four walls" including the extra-effort needed to avoid any communications speed bumps: misunderstandings, misplaced emails and literal lost in translation errors.
Lab as a Service (LaaS) is a newer, high-efficacy trend within the drug discovery industry – insourcing the entire scientific workflow, including driving in a large lab-in-a-trailer.
The LaaS model provides not just individual personnel but a comprehensive results-based solution – scientists, technical staff as well as their instrumentation, consumables, and processes – to achieve your predefined outcomes.
Specific expertise as needed with flexibility to expand and contract
Staff managed and trained by LaaS provider
No HR overhead expenses
Serves as an extension of your on-site organization
100% control over all IP
Lower CapEx costs
LaaS engagements are unique to each pharmaceutical company's needs and can cover a wide range of services, including discovery, IT, compliance, instrument care and maintenance and lab relocation. Entering a LaaS partnership can remove a significant burden of a lab manager's shoulders while ensuring documented agreed-upon outcomes.
READ MORE HERE about the different lab models.