Feeding the World Starts With a Single Grain of Wheat
August 5, 2019
Click Here to View All Blogs About
Food
A Global Agricultural Challenge
When it comes to feeding the world, we face a serious problem. Every second of every day, five new lives join the more than 7.5 billion people currently inhabiting our planet. Within the next 30 years, our numbers will exceed 9.6 billion.1 To help feed the world's growing population, G20 nations launched the International Wheat Yield Partnership in 2014. Its goal is to increase wheat yield among member nations by 50% within the next 15 years.2
Considering wheat production has plateaued – and even dropped in some regions of the world – the G-20 objective seems like a huge stretch. Industry experts argue that even the globe's most productive wheat regions are falling short of their potential maximum yields. The reasons why are plentiful. Among the most common explanations are climate change, pests and diseases, lack of water, economics, and the failure to modernize agricultural techniques around the globe.3,4
"A lot of poor farmers in underdeveloped countries are still farming as though it's 10,000 B.C.," Dan Glickman, former U.S. Secretary of Agriculture, who now consults with several nonprofits that hope to solve world hunger, told Newsweek. "There's no crop rotation, no irrigation; people are still using animals for plows. Just exporting modern farming practices globally will do a lot to feed a lot more people."5
Compounding the problem is the global shortage of more cultivable land. Short of clearcutting rain forests, irrigating deserts, and thawing out frozen tundra, we have pretty much exhausted our land options. We already use 40% of the planet to grow food. Wheat fields occupy about 17% of that total, which currently sustains up to 35% of the world's population.6,7 Due to the rapid advance of the world's middle class and urbanization, the demand for wheat and protein-based diets is growing at an unprecedented – and unsustainable – rate.8
If we hope to stave off what the United Nations fears may be widespread malnutrition in the future, we need to increase wheat yields significantly by embracing something that has always been part of the food solution, but is often overlooked. That something is science.
The Green Revolution
There is already a precedent in place for how well applied science works in agriculture. From the 1930s through the 1960s, a slew of scientific initiatives led to dramatic increases in global agricultural production. Among those initiatives were selective breeding, improved fertilizers and pesticides, the expansion of irrigation, and the introduction of modern farm management techniques, including the use of hybridized seeds. Dubbed the "Green Revolution," the initiatives are credited with saving as many as a billion lives from certain starvation.9
In many respects, the Green Revolution has never ended for companies like Perten Instruments. Founded in 1962 and now a part of PerkinElmer, Perten got its start by solving another major problem for the world's farming, milling, and baking industries. By introducing the Falling Number System, all grains are now tested for moisture content and the presence of of an enzyme called alpha amylase. Too much of the enzyme can degrade the quality and value of flour.
While the Perten brtand may not be on the tip of the tongue for non-food PerkinElmer clients, the Perten Falling Number test has become an ISO standard for grains around the world.10
"We have not spent a lot of time promoting ourselves outside of our industry because our reputation as experts in grain, flour, food, and feed and the quality of our instruments do the talking for us," says Wes Shadow, Business Marketing Development Manager for PerkinElmer. He is not boasting. PerkinElmer quality has made the company a global leader in advanced analytical instruments to agricultural, milling, and processing facilities around the world.11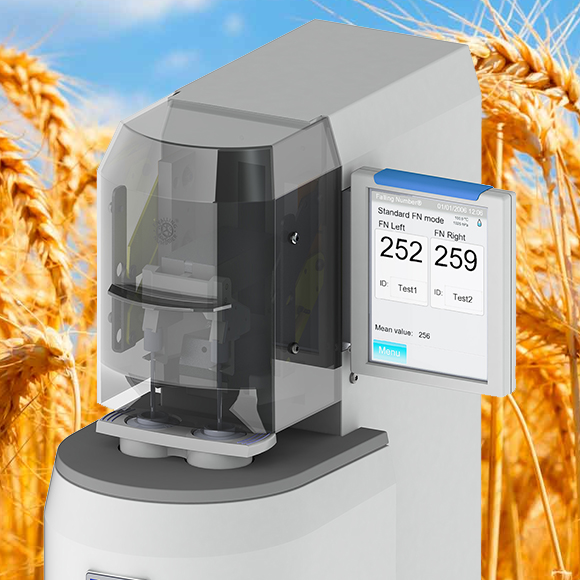 Beyond the all-important ability to follow through on its promises, PerkinElmer has a global reach and hard-earned reputation for operational know how in all facets of the food and agricultural industries.
Since joining parent company PerkinElmer in 2014, the Perten portfolio has added environmental and life science services to its portfolio which now includes extensive genomics and mycotoxin analytical capabilities. The result is that PerkinElmer has become an integral part of the global grain cycle at every level, every day, and is likely deeply engrained in your own company's operations.
The Grain Cycle
It starts with a single grain of wheat. Using PerkinElmer's family of Near Infrared (NIR) analyzers that include portable units that can test samples in seconds, grain breeders, farmers, and traders are screening grain right in the fields, at silos, and on-line at mills for a number of critical characteristics that affect the quality, use, and market price. These include measurements for moisture, protein, fat, and starch content that breeders use to select the most promising hybrid seed stock at the earliest growing stage possible.
These same characteristics are also important to farmers and traders who need an easy-to use and fast test to learn grain characteristics that will help them to determine both the proper drying time of different grains as well as the optimal time to bring those grains to market for the best prices.12,13
The Science Of Milling
Another critical component of the grain cycle is milling. With profits sometimes adding up to only pennies per ton, efficiency is essential to flourmills. Because there is no single definition of flour quality, the key to successful milling is knowing what to look for, then using the right testing equipment and methods to efficiently extract and separate the components of wheat based on its nutritional content, functionality, starch characteristics, gluten content, and customer requirements.
Making good breads and leavened products, for example, requires high protein hard wheats. Cookies, crackers, and cakes, on the other hand, need soft, low-protein wheats, while pastas and noodles require both high protein and gluten strength, which makes dough elastic and allows it to rise.14
Whatever wheat's end use, millers closely monitor a host of performance factors in their milled flour. To do so commercial milling labs often have a number of PerkinElmer analytical instruments on hand, from gluten and flour testing equipment that helps determine flour properties to viscosity and texture analyzers to discover the starch pasting and crispness properties of different flours.15
Feed suppliers, meanwhile, face the daunting task of meeting the demands of a growing global middle class. As that occurs, global diets are expected to migrate towards an animal-based protein diet, which increases the demand for grain. To help meet that need, many feed suppliers are using PerkinElmer NIR analyzers to rapidly identify grain components and buy the least expensive ingredients while still formulating safe and nutritional feeds.
Looking To The Future
Despite remarkable gains in controlled-environment farming, such as high-tech greenhouses and "vertical farms" that can command premium prices for optimally grown fruits and vegetables because of their freshness and farm-to-table convenience, there are no such advantages or economic incentives for stable crops such as grain. The costs currently associated with controlled-environment farming are just too costly on a large scale to make it feasible. For the foreseeable future, farmers will require vast expanses of cultivable land to profitably grow grain crops.16
An integral part of that process will continue to involve companies like PerkinElmer. Through science and the applied expertise of their more than 10,000 employees around the globe, they continue to work for and with the world's agricultural and food industries to further advance hybrid grains, help to develop new food formulations through more precise nutrition and quality monitoring instruments, and continue to advance easy-to-use analytical tools that will keep our future food supply both wholesome and safe.
"As a global player, PerkinElmer is close to the ideal single-source supplier to the agricultural and food industries," says PerkinElmer Wes Shadow. "The quality of our instruments and credibility of our experts are near legendary in the fields, mills, plants, and bakeries all around the world. In fact, we are involved in testing 95% of the entire world's grain, and we take a lot of pride in saying we know your business, because we are in your grain."
References:
Anna Scott, "Global Food Security: Could Wheat Feed The World?" The Guardian, April 1, 2014, accessed July 7, 2017.
International Wheat Yield Partnership, "International Wheat Yield Partnership To Help Meet Growing Wheat Demands," IWYP News Release, Biotechnology And Biological Sciences Research Council, March 26, 2014, accessed July 7, 2017.
T. Curtis, N.G. Halford, "Food Security; The Challenge Of Increasing Wheat Yield And The Importance Of Not Compromising Food Safety," Annals Of Applied Biology, Vol. 164, Issue 3, May 2014, pp. 354 – 372, accessed July 10, 2017.
Ibid. See also, Francis Dobbs, Peter Langridge, Achieving Sustainable Cultivation Of Wheat, Vols. 1 & 2, Online Book Description, Burleigh Dobbs Scientific Publishing Company, June 2017, https://shop.bdspublishing.com/checkout/Store/bds/Detail/WorkGroup/3-190-52982, accessed July 11, 2017.
Betsy Isaacson, "To Feed Humankind, We Need The Farms Of The Future Today," Newsweek, October 22, 2015, accessed July 12, 2017.
T. Curtis, N.G. Halford, op. cit. B.C. Curtis, "Wheat In The World," Bread Wheat, Agriculture And Consumer Protection, Food And Agricultural Organization Of The United Nations, accessed July 6, 2017.
T. Curtis, N.G. Halford, op. cit. See also, Betsy Isaacson, "To Feed Humankind, We Need The Farms Of The Future Today," Newsweek, October 22, 2015, accessed July 12, 2017.
Ibid. See also, World Health Organization, "Global And Regional Food Consumption Patterns And Trends," WHO website, accessed July 14, 2017.
Lloyd.T. Evans, Feeding The Ten Billion: Plant And Population Growth (Cambridge: Cambridge University Press,) 1998. See also, William S. Gaud, "The Green Revolution: Accomplishments and Apprehensions," AgBioWorld, March 8, 1968, accessed July 11, 2017.
Peter J. Malia, "Watch Out For A Falling Number," PerkinElmer Corporate Stories, July 13, 2015, accessed July 14, 2017.
Anon., "Perten Instruments: A Global Leader In Analytical Instruments For Grains, Feed And Food," Valedo Partners Case Study, 2010, accessed July 16, 2017.
Wes Shadow, "DA 7250 NIR Instrument Overview, Online Perten Product Information, accessed July 11, 2017.
Anon., "Perten Instruments' Product Range," Online Perten Product Information, https://www.perten.com/Products/, accessed July 11, 2017.
Rochelle Bilow, "Flour Power: Your Definitive Guide to Baking With White, Wheat, and More," Bon Appetit, May 14, 2015, accessed July 14, 2017.
Wes Shadow, "Analyzers For Flour Mills," Perten Instruments Company Powerpoint Overview, 2017.
Issacson, op. cit.