Tackling Huntington's Disease from All Angles: Part 2
The Whole Patient
By being part of the HD community as a scientist for many years, Muñoz-Sanjuan has had first-hand experience with patients and their families. He has witnessed their struggles living with an incurable and inherited disease; over the years, he inevitably developed a personal connection to many patients and the overall community. While traveling and giving seminars about his work in Latin America, Muñoz-Sanjuan met many HD patients and relatives who were excited to understand more about their disease and talk to someone who understood what they were going through.
Those patient connections are part of what led Muñoz-Sanjuan to start his non-profit organization, aimed at helping HD patients in towns in Venezuela, Colombia, and Peru-places that not only have the highest incidences of HD in the world, but where people are also living in extremely vulnerable conditions.
Establishing a separate, rights-based humanitarian foundation was important to Muñoz-Sanjuan, who felt there was more that researchers like himself could do today for these families living in regions with a high prevalence of HD. He felt compelled to act on this urge and knew that there were like-minded people who wanted to do more with him.
"I spent time in Colombia, Venezuela, and Brazil between 2012 and 2013 seeing families, and I just couldn't forget what I saw," he says. "I felt I had a moral responsibility to not ignore what I had seen. And I decided, even if it was just on my own, that I would do something to raise awareness and help them. And that idea kind of grew over time into the organization that I started."
Many of these families with prevalent HD have little to no medical or social support; in fact, there is one area of Venezuela that is believed to have the highest percentage of people diagnosed with HD with 700 in 100,000 people affected.
"I also connected very well with the people that were in those communities," he says. "And I felt that if somebody could do something, maybe I was that somebody who had enough connections in the HD community and enough visibility, to raise awareness to this problem. And on a personal level, I just felt like I couldn't ignore what I had seen and not do anything about it."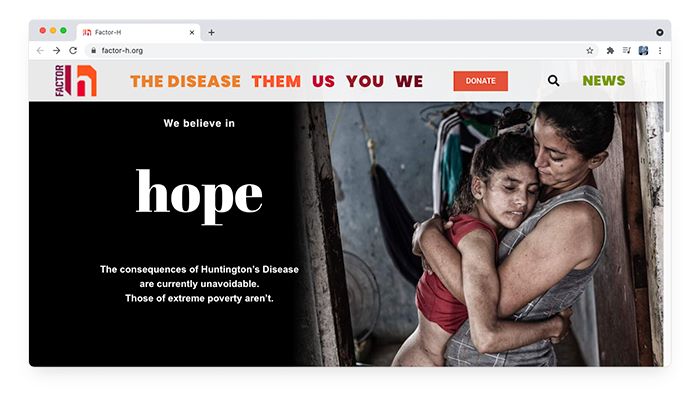 He remembers, early on in his Factor-h journey during his first visit to Colombia, a time when a man who had traveled hours to attend one of his talks stayed after to enthusiastically thank him for coming and shedding light on his and others' situation. The next year when Muñoz-Sanjuan visited the same area, he spent the day driving around to visit and deliver gifts to people he had connected with during his past trip. He didn't make it to that man's village until late in the evening, and he was stunned to see the man waiting for him out in the streets when he arrived.
"As soon as I got out of the car, he says 'I've been waiting for you all day, I knew you would come back to see me.' And I still get emotional about it because this man, whom I met only once, somehow sensed that I was not going to abandon them, that I would come back," he says.
"We sat outside his house, on the porch with his family, and we just talked for an hour, and he just kept saying, 'I knew you would come back.' These are the little things that matter. Each one of us has the ability to change people's lives in very significant ways, just by being present and caring for people," Muñoz-Sanjuan says.
"There's nothing unique about what I do here," he says. "It's just a matter of saying, I'm going to spend a little bit of my time with you today. And that's good enough sometimes."