Q&A About Europe's New In Vitro Diagnostic Medical Devices Regulation (IVDR)
Beginning on May 26 2022, Europe's current In Vitro Diagnostic Medical Devices Directive (IVDD 98/79/EC) is being replaced with a new regulation, In Vitro Diagnostic Medical Devices Regulation (IVDR). There is a progressive, multi-year rollout transition schedule.
As product performance and patient safety are central to our values, PerkinElmer is fully prepared to comply with this important transition.
If you are a PerkinElmer customer, there is no action required from you – we are taking care of the transition to this new regulation. However, as any change comes with questions, we have prepared this FAQ document to help you.
Q: What is IVDR?
IVDR is the new legislation that replaces the current EU directive IVDD 98/79/EC for in vitro diagnostic medical devices offered within the European marketplace – across all 27 member states of the EU as well as Iceland, Norway and Switzerland. The United Kingdom is exempt.
Compared to IVDD 98/79/EC, IVDR divides products into 4 classes (A-D) based on their risk classification and intended purpose. Learn more about the IVDR classification of PerkinElmer's devices.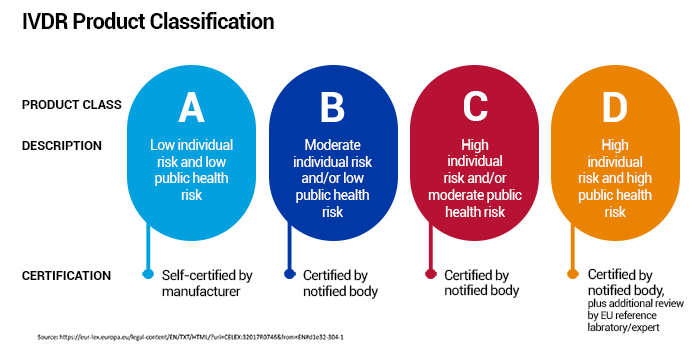 Q: What are the benefits of IVDR?
IVDR delivers important benefits, the most significant being improved patient safety.
Additionally, the IVDR legislation creates a continuous, transparent, and traceable process for in vitro device performance. Device manufacturers now have a deeper responsibility to prove and trace the analytical and scientific validity of their products throughout the product's lifetime… not only at the initial product launch. This means better protection for you and your patients.
Q: What are the timelines for IVDR?
 Transitioning timelines depend on which risk-based class the product belongs.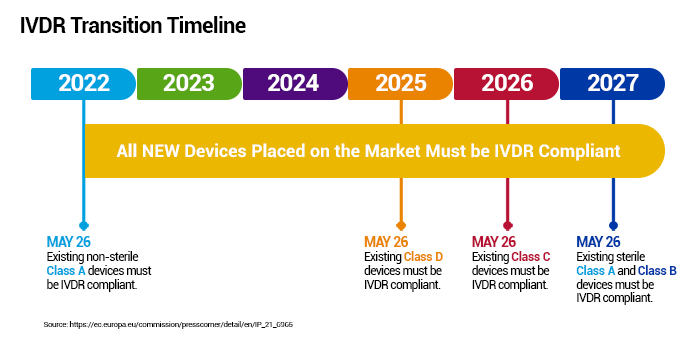 Q: How has PerkinElmer prepared for the IVDR transition?
Beginning with the Class A products, PerkinElmer is ready for the May 26, 2022 implementation.
Adhering to regulations is meticulous work, and our teams have worked diligently to ensure our current and future product portfolio will comply with the IVDR requirements according to the scheduled rollout.
We can ensure our customers will experience a seamless transition from IVDD 98/79/EC into IVDR in 2022… and into the future.
Q: What do PerkinElmer customers need to do to comply with the new IVDR legislation?
No actions are required for PerkinElmer customers. The intended use, product composition and performance of our current CE-IVD products remain unchanged.
Q: How does IVDR impact those using a homebrew lab tests?
Homebrew users will not be mandated to switch to a IVDR product, even if available.
However, according to IVDR requirements, after a transition period, they will need to have the documentation in place to prove the safety and clinical performance of their assay.
Q: Does IVDR impact non-European countries?
There is no impact or actions required anywhere outside of Europe.