PerkinElmer's ChemDraw® Donation Advances Learning in Uganda
I am an apprentice working at Lancaster University as a Chemical Engineering Technician. In this capacity I study 1 day per week as well as working as a technician at the university. I have 7 years of professional laboratory experience, initially starting as a laboratory technician in the food industry and now as a Chemical Engineering technician in academia.
As part of my role I interact with local schools and run inspiration days. This is where I met Ruth Lowe, the head of the sixth form at Our Lady's Catholic College Lancaster. She told me about her biannual trip to Uganda with her students. I expressed my interest in also going on the trip. I applied to the Royal Society of Chemistry Analytical Trust Fund for a scholarship to cover my expenses. My application was submitted and 6 months later I heard it had been accepted. I was going to Uganda! Fantastic!
On the 12th July 2018, 19 of us travelled to Uganda for 19 days. This included students from St. Michaels High School, Crosby, Our Lady's Catholic College, Lancaster University, and teachers from these schools plus me. Ruth and I ran various chemistry workshops across Uganda. We held training sessions that teachers could join. We also conducted sessions for students too. In each location we donated the equipment we used during the classes. This was funded in part by money we had all raised – about £10,000. We also gave each school a laptop with ChemDraw software, which had been donated by PerkinElmer.
I had contacted PerkinElmer because I knew that many schools and colleges in the UK use ChemDraw. I use the software daily myself to draw structures for students and for my apprenticeship assignments. I really love ChemDraw because it makes things very smart and professional yet it's so easy to use. When I heard the news I had won the scholarship to go to Uganda, I wrote to PerkinElmer immediately to explain the trip and ask if the company would donate six licenses of software for the Ugandan students. After a few emails and speaking to different people, I heard the great news that they would like to be part of it and confirmed the donation of the software! Ruth Lowe, the trip leader, was ecstatic as she is a chemistry teacher and passionate about ChemDraw too.
I created a small leaflet on how to use ChemDraw as I knew it would be quite hard at first for the Ugandan students and teachers to learn how to use it, mainly because they were not used to using computers. I spent time with the teachers to show them how to use it by sitting down with them, some in their preparation laboratories, some in the middle of the night because that was the only time we were both free. For others we sat under a tree overlooking African wildlife. Very cool!
The teachers were amazed by ChemDraw. We had lots of fun creating molecules and naming them. They could not believe how much neater their work was going to be compared to their handwritten molecules. They loved the manipulation of the structures and predicting the NMR spectroscopy feature. The teachers knew about NMR but had always struggled to teach this due to lack of equipment.
On other days, I spent time with student representatives, two or three at a time, to explain how to use the software and play around with some of the features. They were asked to present the software to their classmates using the new projector we donated. Overall, this was a very positive time for them and an exciting experience for me to teach them about ChemDraw as it is so useful.
In August 2018, I won the 'Technicians Make it Happen Newest Face' award. I will use this opportunity to talk about my time in Uganda.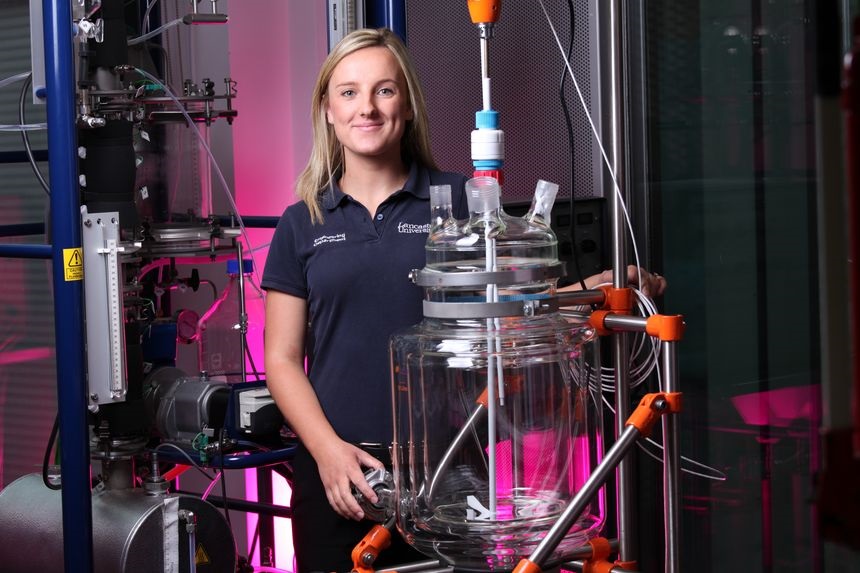 As part of the award, I have travelled to Newcastle and London to showcase my work in different exhibitons. In September, I won another award for profesional development as a Registered Science Technician. I am very exicted about this as it will be presented in London at a ceremony in a few weeks. I am really keen to get involved in different things and keep my passion for working with chemical engineers and showcasing different techniques.
I would like to offer a massive 'thank you' to PerkinElmer for their donation and their support of our trip. I know ChemDraw has already improved the chances for both students and teachers to learn. I hope they continue to enjoy the software in throughout their careers.
Here are a few pictures of myself and the RSC Representative Gonzaga in Bukinda, Uganda.