Newborn Screening Virtual Summit: 45+ Thought Leaders. 24-hours of Learning. One Amazing Location
Prominent biochemist Linus Pauling once said: "If you want to have good ideas, you must have many ideas." One of the best ways to propagate new ideas, particularly in science, is discussion with your colleagues.
We typically use exhibitions and congresses for these discussions and display of new knowledge. Due to safety fears, the pandemic has forced nearly all 2020 newborn screening conferences to be either cancelled or postponed.
A consequence of this situation is the diminished opportunities to share new ideas, novel screening methods, and progressive experiences with colleagues from around the world. 
The answer to this situation is for PerkinElmer to host an online conference with the breadth and scope to help make up for a year of lost learning and networking opportunities.
Introducing the Newborn Screening Virtual Summit 2020. Not only will this summit mean that the field of newborn screening can continue to be advanced, but by the nature of the event being online, more people – from across the globe – can join the discussions, especially professionals who could never attend physical industry conference before.
0% Travel and 100% Safe.
 Featuring speakers from Japan, USA, China, Brazil, UK, Denmark, Africa and France, this is a truly global event. Many of these international sessions have subtitle support, and all the talks will be available 24/7 on-demand after the summit. No matter your time zone, you won't miss out any speaker sessions.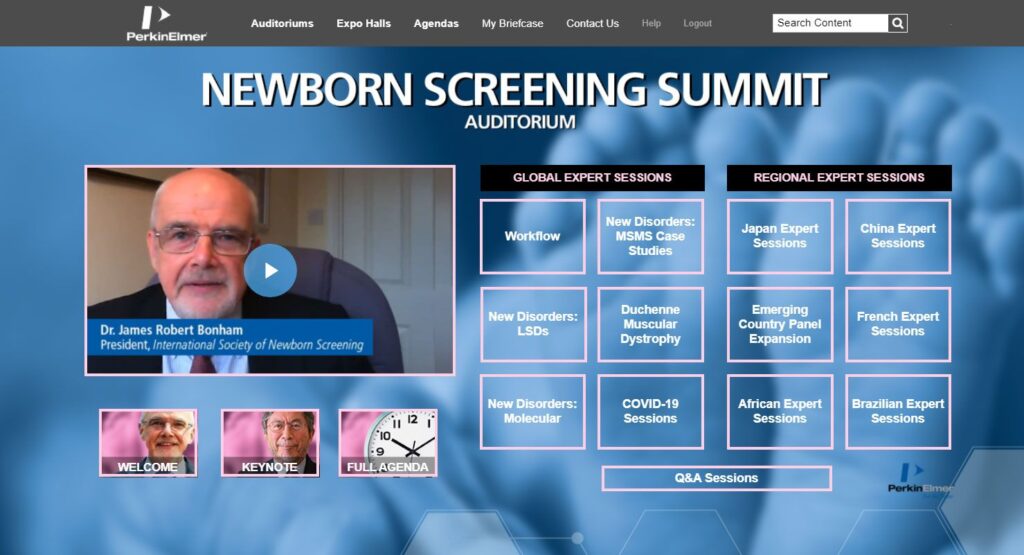 Additionally, there will also be live Q&A sessions, giving you the opportunity to directly ask your questions… in real-time… to our speakers and thought leaders.
 PerkinElmer has been involved in newborn screening for over 30 years and is active in over 100 countries, and so are well placed to bring together this community from all over the world.
Summit highlights include: 
Opening remarks of the summit will be from Jim Bonham the President of the ISNS
Keynote talk will be from Professor Moshe Hod, the chair of the Pregnancy & Non-Communicable Diseases Committee for the International Federation of Obstetrics and Gynecology
The American Society of Hematology representatives
In-depth discussions on new disorders to the screening community such as SCID and SMA
Future innovation in the Perinatal Setting and how the world will change in the next 10 years
Fresh perspective on a holistic approach to newborns
2020's Newborn Screen Summit of the Year
 It has been said that a virtual event cannot completely replicate the experience of an in-person event, but we believe professionally and scientifically the "show must go on", and we are proud to provide the stage for that show.
CLICK HERE to register for the summit. There is no fee to attend.