Lab 4.0 – Megatrends That Define the Lab of the Future
Imagine the analytical laboratory of the future. What will the lab look like? What will its workflow be? Who will be working there? Laboratories everywhere are grappling with these questions and more – and are turning to Lab 4.0 for answers.
What's Lab 4.0? It's the term currently used to convey a vision of intelligent automation of systems and digitalization of labs and lab workflows. Savvy lab managers are working to understand how to implement the strategies of Lab 4.0, knowing it's the way forward to greater efficiency, productivity, sustainability – and the decision-making power that data enables.Here are some top trends being unveiled by high-tech labs that are looking ahead to Lab 4.0.1
Globalization
Innovation knows no bounds, and neither does Lab 4.0. Thanks to new technology, the lab of the future will be a place of collaboration and connectivity – a place where many scientists can work together around the clock and around the world. Boundaries between labs and their partners will cease to exist. Cloud-based computing and smart technology will facilitate access to talent and resources anywhere and everywhere. Global networks will be accessed by experts to study, analyze, and draw more informed conclusions.
Standardized Procedures
Many analytical experiments cannot be adequately replicated due to human error. Efficient, standardized procedures can streamline and automate analytical experiments and many everyday tasks. These procedures can help create consistent foundational data, chart more efficient routes to innovation, and produce reliable results.
Automation
Fully automated labs may look and operate very differently from the current lab environment. Future labs may feature dense assemblies of analytical equipment, allowing labs to gain space and make better use of resources. Increased automation of workflows will be enabled through robotics and automated algorithms that can connect to smart instruments remotely.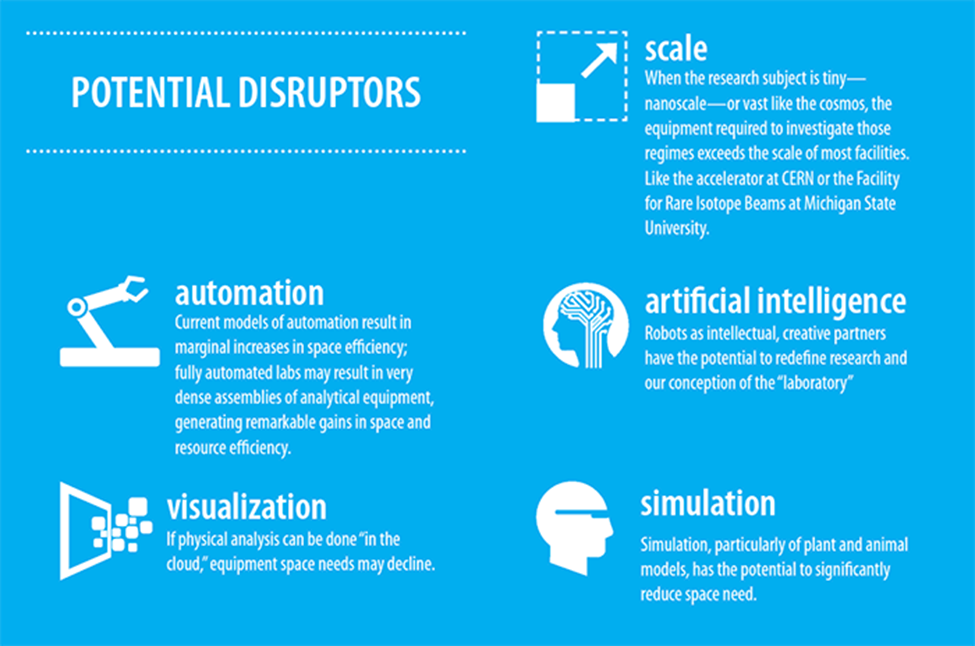 Source: Laboratory of the Half Century, SmithGroupJJR
Robotics and Artificial Intelligence
Robotics may completely redefine our conception of the laboratory, automating tasks that were once completed by hand, while artificial intelligence automatically assesses protocols and results. Increased automation of workflows through robotics allows for automated algorithms that can connect to smart instruments remotely. And labs that link AI-based data analysis to robotic synthesis and validation ensure a work environment in which machines are tasked with many of the traditional functions of researchers.2
For example, IBM is currently working on a system to apply natural language programming to predictive chemical synthesis problems. Philippe Schwaller, a PhD student at IBM who studied reaction prediction at the Zurich lab, says the AI component of RoboRXN digitizes chemistry through language to promote machine learning. "Our models are trained on molecular representations where atoms are like characters, molecules are like words, and chemical reactions are like sentences," Schwaller says.3 It seems likely a programmed model will one day learn in a manner similar to the way humans do.
Digital Data
Digital solutions can be used to drive analysis and increase productivity. The data can be also used to speed up procurement, save costs, and revolutionize the process from discovery to delivery.
Accelerating discovery often comes down to improving data. For example, a chemistry laboratory runs experimental cycles. In the cycle, AI models the experiment and designs a compound, robotic equipment runs the synthesis, and AI evaluates the output; researchers interpret the data and adjust experimental models as needed.

Adapted from Connor W. Coley/Will Ludwig/C&EN. Source: Connor Coley/Massachusetts Institute of Technology4
Sustainability
Many labs are working to reduce emissions and rely on clean energy, but their high energy usage and plastic waste generation hinder the ability to reach these goals. Innovation is key to solving these issues.
According to a recent article published in Nature, "Scientists are increasingly aware of the disproportionate environmental footprint of their research…many facilities are stepping up, implementing better waste management practices, and seeking out greener energy sources."6
While leading biotech and pharmaceutical companies are working to decrease their greenhouse gas emissions,5 it's important to note that transformation won't necessarily happen overnight. This type of evolution is complex and should be approached thoughtfully.7
A Better User Experience
The workforce has changed and so has the instrumentation they use. Today's lab worker has a greater familiarity and ease with smart technology. Smart instruments and cloud solutions combined can create complete monitoring solutions for the laboratory. Smart temperature sensors enable monitoring inside ovens, incubators, freezers, and more. Smart tech can be used to monitor lab humidity, air pressure, and light, and equipment sensors are available on mass spectrometers and other valuable equipment. Smart tech allows users to connect without hardwiring or cables and integrate with electronic laboratory notebooks and smart tablets.
Just like any other business, labs are feeling the pressure to get more done faster – cutting costs, but not cutting corners. Technology can play a transformative role in helping labs meet and exceed these goals. Planning for the lab of the future takes time and can best be achieved by following the steps below.
6 Steps Laboratory Managers Can Take to Start Lab 4.0 Transformation 
Identify Operational Challenges to Be Solved
Map out laboratory workflows and bottlenecks – consider both current and future workflows.
Consider the scope. Is it global or local? What does it entail?
Create a Business Case
What is the success criteria?
What are the long-term goals of the lab?
What are the risks and how can they be mitigated?
Identify Key Stakeholders
Look for project support and agreements.
Leadership Buy-In
Demonstrate a proven business value.
Research and Select Solutions
Define short- and long-term implementation.
Discover how to integrate current technologies.
Describe How Changes Can Be Implemented
Create timelines and action plans.
Suneet Chadha, VP/GM Applied & Food Segments at PerkinElmer, discusses the transformation to Lab 4.0

Notes
1-3. Mullin, Rick The lab of the future is now Chemical & Engineering Magazine
4. Adapted from Connor W. Coley/Will Ludwig/ Chemical & Engineering Magazine
5. The State of Lab Sustainability, Lab Manager Magazine, June 13, 2022
6. https://www.nature.com/articles/d41586-020-01368-8