How Customer Feedback is Used to Build Smart GC Solutions
July 12, 2022
Click Here to View All Blogs About
Air
Customer feedback is vital when starting a development process to improve the final user experience with GC equipment. That's because using analytical instrumentation daily creates greater understanding of what parts could use improvements, updates, and automation to create an optimal end-user experience.
When it comes to GC lab equipment development at PerkinElmer, the GC 2400 Platform launch at Analytica 2022 involved teams from R&D to Application, Marketing, and Product Management from the start. Here are some key insights from those involved in developing the GC 2400 Platform.
According To Hakan Elmali, Vice President R&D, 3 Factors Are Key to Developing Lab Equipment
User and market feedback: the laboratories who use GC and GC-MS daily know every single detail of the operations. Therefore, they see how these steps could be improved or simplified to optimize their time. "That is why, when we start a development project, we begin by collecting the feedback and especially the pain points of current users of GC technology," Hakan Elmali says.
Clearness of objective comes if you involve very different teams; shared clear goals and objectives are at the basis of the daily work, ensuring smoothness over doubts and questions. Besides R&D projects, teamwork and collaboration are essential to ensure that different skills drive a successful outcome.
Curiosity is paramount. "These projects aim at developing science and understanding how the analytical community works. Our work is really defined by being curious and thinking up new ways to develop lab equipment utilized by real users, who are driven by the ease-of-use and productivity of their labs," Hakan Elmali explains.
Addressing the development of a GC Platform represented an R & D challenge due to the fact that GC is a very established technique currently being used in many regulated environments. Hakan Elmali says, "this can also be motivating as the developments can now integrate many new features: from smart control with wireless devices to software-driven automation to Internet-of-Things (IoT) devices.
For the GC 2400 Platform the direction was towards integrating the features of the industry 4.0: remote monitoring via access to the instrument software via the Web app and/or instrument PC. This also addresses the new requirements of hybrid work set-ups and intervenes at earlier stages."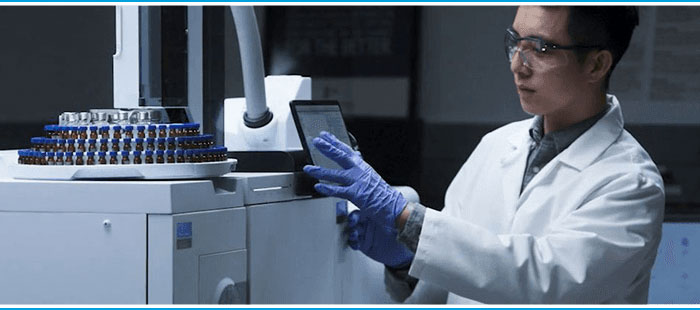 The detachable touchscreen addresses the users' feedback about flexibility of instrument access.
When discussing instrument control and software access, it is essential to consider the end-users reactions. Alessandro Baldi Talini, Portfolio Director Gas-Chromatography Platforms underlines the importance of including customer views and perspectives at the beginning of the development. "GC is a very versatile technique and historically, its use expanded greatly from environmental research to industrial applications for QA/QC. So, when we started the project, we checked if there were updates or new regulations and application development trends to ensure these were addressed," Baldi Talini says.
Of course, the GC System is just one part of the overall GC workflow. Kyle Oberndorfer, Director Software Platform explains, "We can't consider GC without talking about data reporting. For this, we revised the user needs for user interface and automated workflow and based on our experience with LC; we developed the SimplicityChrom CDS Software to address the needs for labs for ease of use and reduction of adoption costs no matter the level of expertise of the lab staff."
Kyle Oberndorfer thinks that when developing and implementing a new software platform, training should be considered and the user digitalization skills, driven mainly using smart devices and app-like programs. "That is why the SimplicityChrom CDS Software has an app-like style and shows iconography for the ease identification of analytical tasks," Kyle Oberndorfer clarifies.
Product development projects couldn't exist without the variety of skills and backgrounds of the people involved: it is proof that complex projects benefit from an inclusive culture, where the wealth of perspectives driving towards a final solution makes a positive impact on everyday life in the lab.
Please take a moment to watch this video below to see what goes into developing a new GC.