Go 3-for-3 with ICP-MS and Cell Culture Media
We've all heard the anecdotes about lab managers and their customers who demand results must be 1.) accurate, 2.) fast, and 3.) in-budget.
Unfortunately, we also all know the stipulation that follows: "You can only pick two." Fast and accurate, but not in-budget. Or, fast and in-budget, but not accurate… and so on.
The pandemic has brought this 2-out-of-3 scenario front and center for biotherapeutic development and manufacturing.
1.) Accurate
In the past decade, compliance to ongoing FDA cGMP guidelines focused our attention on eliminating error through regulation, including ownership of workflow processes and data integrity.
2.) Fast
During this same time, the therapeutic antibody market exploded. Timelines condensed as technology evolved and production yields increased twenty-fold. Soon, eight out of ten of the best-selling drugs worldwide were biologics. Now add a worldwide pandemic to the mix and, well, biologic development and manufacturing can't go fast enough.
3.) In-Budget?
Does that mean cost has taken a back seat? Hardly. Competitive pressures, legislative initiatives, and corporate bottom-lines have brought great pressure to reduce drug development costs.
Fortunately, the answer to these challenges has been in advancements in technology.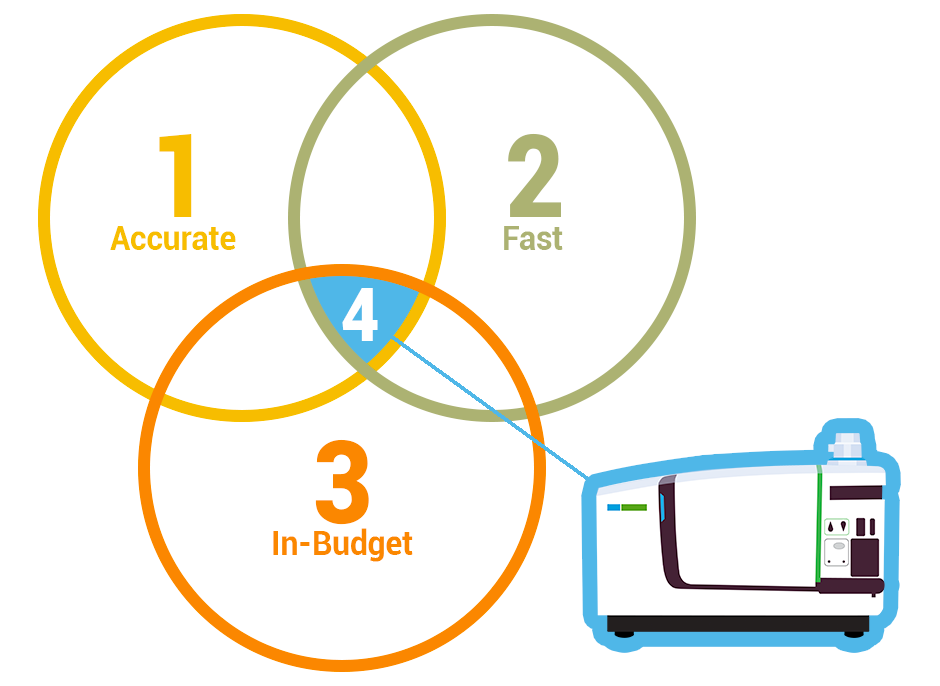 "Significant innovation in analytical tools for process improvement and quality control (QC) has been one of the ways biopharma has met the least cost /most accuracy and speed to market challenge," said Aaron Hineman, PerkinElmer's ICP-MS Product Line Leader for the Americas.
One example, Hineman noted, is the characterization of cell culture media in downstream bioprocessing.
"If your product is headed for clinical development, it's assumed your cell culture media has been reviewed for cGMP," said Hineman. "But the reality is that wide variation in metallic concentrations – from 1 to 25,000 ppb – can affect product yields, critical quality attributes and introduce lot-to-lot variability."
QC in cell culture media is essential for reducing variability and ensuring improved production yields. One powerful tool to QC the elemental composition of cell culture media has been ICP-MS.
"ICP-MS has the advantages of multi-element analysis, high sensitivity, low detection limits, wide linear dynamic range and easy automation. Bottom-line, culture media is complex… introducing interferences in the matrix that challenge accuracy."
What if those interferences were mitigated by a smarter technology?
3-for-3 with Four Quads
"I think that's where we are at with the new multi-quadrupole ICP-MS analysis, continued Hineman. "You get great stability with CCV recoveries at +/- 20% of original readings. Four quad analysis is a big step forward in helping streamline the bioprocessing workflow, including reproducible results, highly accurate interference removal, and a matrix tolerance that's hard to achieve with older technologies," finished Hineman.
About the NexION® 5000
The NexION 5000 multi-quadrupole ICP-MS system is the first in its category to offer four quads. The system has been recognized by the scientific community with Wiley's Analytical Science Award, The Analytical Scientist Innovation Award and R&D 100 Award.
Download the application note, "Direct Trace-Element Analysis in Cell Culture Media and Raw Materials" to learn more about the advantages of multi-quadrupole ICP-MS technology for this application.