Gene Therapy as an Emerging Modality to Address Rare Diseases Treatment
Research shows that rare diseases (RD) impact the lives of estimated 300 million people worldwide. The good news is new advances in gene therapy seem to offer us a chance to treat rare diseases in a different way.
The number of people living with a RD may seem small, but their treatment continues to be a global priority for those involved in public health, research, medical and social work. For example, 6,700 rare diseases form a community of over 300 million people globally. There are approximately 7,000 different rare diseases, of which 4,100 are monogenic diseases.1
Monogenic conditions arise from a mutation on a single gene. The overall treatment of these diseases has traditionally focused on treating the symptoms of the disease. Yet, thanks to recent advances in gene therapy, it is now possible to correct the mutation causing the disease. Correcting the gene offers a potential therapeutic path to as many as half of the rare disease population.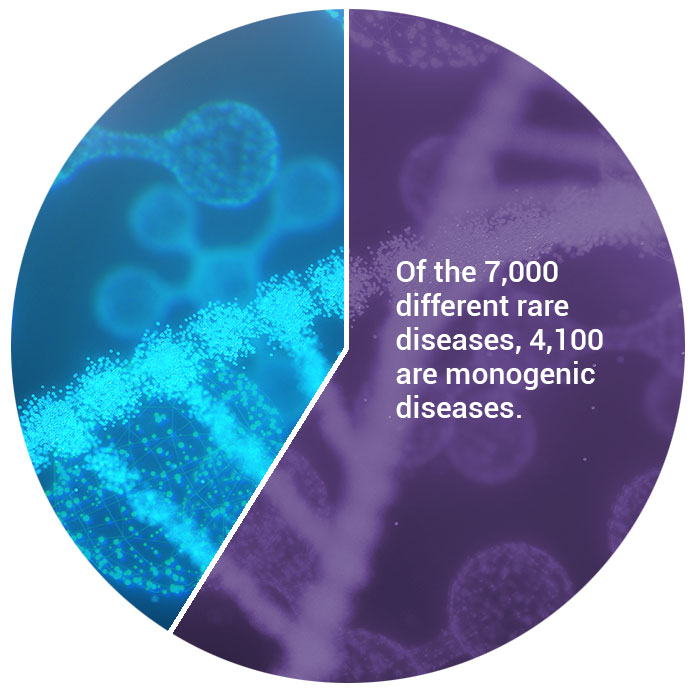 On a Journey Towards Rare Disease Identification
Every journey begins with a single step. And our first step is elucidation of the genetic markers of the disease, which is accomplished via a concerted effort at an individual's whole genome at a single or multiple variant level. We utilize next-generation sequencing (NGS) techniques which employ gene panels to detect changes at the genetic level.
In an alternate approach, genotyping array technology is utilized to identify a select set of variants termed single nucleotide polymorphisms (SNPs) that are single or point mutations at the genomic DNA level. They can potentially lead to a rare disease manifestation. A large quantity of genetic sequence data is analyzed, annotated, and managed via an infrastructure of bioinformatics that eventually enables gene family clustering (e.g., hierarchical analysis) and patient stratification at the population level.
With its deep-learning capabilities, artificial intelligence (AI) has recently been applied to diagnosis, research, and drug discovery and development to treat RD. AI offers great potential to integrate critical data such as diagnostics and demographics in various valuable ways that drive treatment.2
Understanding Gene Therapy
Partnerships among academia, clinical researchers, and industry professionals drive a better understanding of the genetic basis of diseases. During the early discovery phase, the primary goal for the researcher is to understand the biology of the specific illness and validate the molecular target(s). Gene therapy is a trending therapeutic approach that involves the delivery of the corrected gene to the patient.
The Predominant Methods of Gene Delivery: 
Mechanical either via microinjection of DNA directly into cells,
Electroporation facilitated by electrical stimulation or biolistics using DNA cast on to gold or tungsten nanoparticles which are accelerated to penetrate the target tissue and
Viral vectors, the most common and well-studied tools used today.
Other factors that need evaluation are the stability of the inserted or edited gene and the immune response to the vectors.
Applications of Gene Therapy: A Roadmap for Success
The principle behind gene therapy involves understanding the gene you are targeting to synthesize a DNA or RNA to correct the mutation and create a vehicle that will deliver the transgene to the faulty cells or tissue.
Increased awareness of the genetics surrounding rare diseases, innovative technology solutions for precise identification and diagnostics, and gene therapy approaches to cure the disease are offering a road map to address new challenges head-on.
A Bright Future Ahead
Global and country-level initiatives, including EURORDIS3 have led to greater awareness and programs with significant funding, resulting in the establishment of centers of excellence and programs needed to study the genetic and epidemiological basis of RD.
A recent increase in patient enrollment for clinical trials from gene and cell-based therapies will drive a concerted effort between clinical researchers, medical care providers, and recipients. Greater collaborative efforts between academia, technology innovators, therapeutic companies, regulatory agencies, and non-profit organizations will also help lead to a unified front for RD. It will leverage opportunities and address challenges to unfold the next era of molecular medicine.
Download "Application Spotlight Cell and Gene Therapy" for a compendium of information.

Authors 
Anis H. Khimani, Senior Strategy Leader, Pharma Development, Life Sciences, PerkinElmer
Glen Molotnikov, Strategy Leader, Biotherapeutics Discovery, Life Sciences, PerkinElmer
References  
Ehrhart, Friederike, et al. "History of Rare Diseases and Their Genetic Causes – a Data-Driven Approach." BioRxiv, Jan. 2019, biorxiv.org/content/10.1101/595819v1.
Brasil, Sandra et al. "Artificial Intelligence (AI) in Rare Diseases: Is the Future Brighter?." Genes vol. 10,12 978. 27 Nov. 2019, doi:10.3390/genes10120978
EURORDIS is a non-governmental patient-driven alliance of patient organizations representing 988 rare disease patient organizations in 74 countries.