COVID-19's Influence on Neurological Symptoms
Research of neurological symptoms associated with SARS-CoV-2 presents an opportunity to further understand COVID-19 molecular functioning as well as its implications in the clinic. Symptoms of COVID-19 typically affect the respiratory system, including fever, dry cough, and shortness of breath.
On the other hand, observations of secondary complex symptoms affecting the central nervous system may provide researchers and clinicians with a greater awareness of the systemic implications of the infection. An investigation performed on patients in Wuhan, China, noted central nervous symptoms including impaired consciousness and peripheral nervous system symptoms of loss of taste, smell, and pain from neuralgia damage.
Earlier SARS and MERS virus infections have resulted in observable neurological symptoms, where SARS-CoV has additionally been shown to affect the brain in some people. Neurological symptoms may be overlooked in some cases as they do not necessarily present with significant respiratory ailments caused by SARS-CoV-2.
Investigations employing both in vivo and in vitro techniques have been performed to determine whether the mode of action of SARS-CoV-2 directly contributes to neurological infections or if infection triggers an immune cascade involving immune cells of the central nervous system.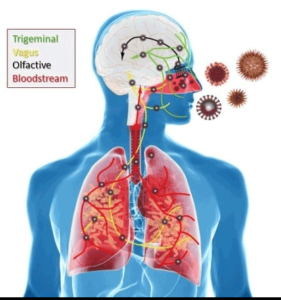 Figure 1. Graphical abstract, exploring potential routes of HCoV entry into the CNS. https://doi.org/10.3390/v12010014
Researchers are also working on evaluating the following core questions using animal models:
Mechanisms of viral entry into the nervous system
Exploration of molecular biomarkers and key cellular pathways, with qualitative or quantitative phenotypic observations upon CNS infection
Elucidation into direct neurological damage by a virus or indirect injury due to secondary inflammation
Effects, both short- and long-term, of pathogenicity that could supplement knowledge to the frontline and potentially help support recommendations of different therapies based on different symptoms.
Adding granularity to the molecular and clinical symptoms caused by SARS-CoV-2 will allow researchers and clinicians the opportunity to evaluate and understand the mechanism that may be used to measure impact of new drug therapy candidates in alleviating complex disease features and possibly treat and prevent disease progression.
The mechanism of entry into the central nervous system is yet to be fully deciphered. The activation of a systemic inflammatory storm with its accompanying cytokines, chemokines, and other signals may have a compound role in weakening the blood brain barrier, which can further promote neuroinflammation to negatively impact brain homeostasis. Additionally, molecular investigation of inflammatory factors IL-6, IL-12, IL-15, and TNF- α involved in cytokine storms may suggest whether neurological symptoms are directly or indirectly elicited by SARS-CoV-2 as observed similarly in SARS and MERS.  Data gathered from these studies provides insight into the viral functioning of COVID-19 in the central and peripheral nervous systems.
The race to develop the most potent vaccine or antibody therapeutic is ongoing. Understanding the mechanism of entry, mechanism of action – direct and indirect – associated with COVID-19 symptoms, and viral tissue progression offers greater context and information of the SARS-CoV-2 virus both at local and systemic levels. As research continues to evolve in a multitude of evaluative and therapeutic modalities, the spread of global information to and among the scientific, medical, and regulatory communities as well as the public will allow for improvements in our collective capability to support treatment and care of patients.
For more detail, read the full whitepaper, " Vaccine Research and the Impacts of COVID-19 on Neurological Symptoms."