Accelerating Vaccine Development for the Novel Infectious Disease with Pseudoviruses
Time is of the essence when it comes to the development of a vaccine for the novel infectious disease in our current pandemic. The world has changed due to its impact – and the race to discover a vaccine is crucial for our return to normalcy.
As viruses evolve over time, new, agile research applications need to be created to combat these evasive intruders from exploiting host cells. Unfortunately, the road towards treatment can be time-consuming, especially when utilizing assays with live virus. The handling of these pathogens needs to take place in research laboratories that are designated as biosafety level 3 or higher due to its dangerous infectious nature.
Such high safety measures, although essential, can extend the timing of the development of a vaccine. Additionally, procuring the live virus for an evaluation assay is very difficult and labor intensive.
The importance of pseudoviruses
Because of their versatility and safety, tools such as pseudoviruses can be used by virologists as an alternative method to develop a vaccine for the novel viral disease. Experiments can be performed utilizing these pseudovirus-based assays in facilities of biosafety level 2 or below.
An added benefit is that a pseudovirus mimics the infectious process of the novel virus and removes the dangerous viral components. That's why it is an ideal candidate to accelerate the research and development of a vaccine for the new infectious disease.
In a recent article published in Emerging Microbes & Infections Journal, scientists from the National Institutes for Food and Drug Control (NIFDC) have identified the S protein as the point of entry for the novel virus – starting the process of infection and key to producing humoral and cellular immunity to fight the virus.
The identification of the S protein
The S protein is a crucial target for the development of a vaccine for the new viral disease. Consequently, a series of pseudovirus-based neutralization assays (PBNAs) have been developed that can generate robust, reproducible, and accurate results using PerkinElmer's EnSight® multimode plate reader and briteliteTM plus luciferase substrate.
The diagram below highlights the general workflow process for the pseudovirus neutralization assay.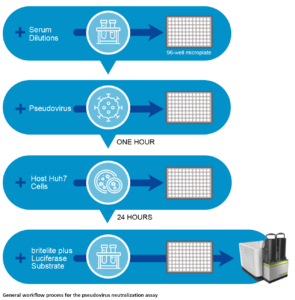 The EnSight multimode plate reader offers best-in-class luminescence detection technology at high throughput rates (less than 1 min per 96-well plate) and can support biologics, vaccines, and small molecule research. The britelite plus homogeneous luciferase reporter gene assay system is designed to provide maximum signal intensity for assays requiring the utmost sensitivity.
The authors tested convalescent patient sera for the novel virus which showed high neutralizing potency and the assay is a reproducible and robust method with low CV's (< 17%).