6 Critical Considerations for SARS-CoV-2 Detection
July 13, 2020
Click Here to View All Blogs About
SPECIAL AFRICAN HEALTHCARE WEEK ONLINE WEBINAR
Finding the right solution for a lab's SARS-CoV-2 detection needs can be a difficult decision. The challenges are unprecedented, and the options can be overwhelming. In this presentation at African Healthcare Week, we will discuss the critical factors that labs should consider to help them make a clear choice.
Need assessment
Depending on the desired outcome, one or more complementary detection methods can be employed. Real-Time PCR assays are used to identify SARS-CoV-2 RNA shed by individuals with an active infection. The results are typically used to determine treatment and quarantine plans. On the other hand, immunoassays detect antibodies to SARS-CoV-2 that have been reported to appear days after infection and persist for a relatively longer time. Immunoassay is a valuable tool for identification of individuals who have developed an adaptive immune response, detection and disease surveillance.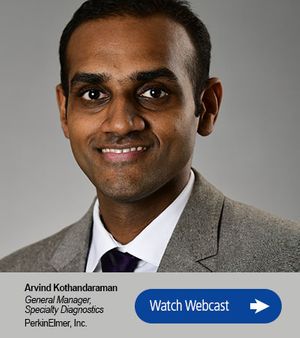 Assay performance
The viral dynamics of SARS-CoV-2 is not yet fully understood. There is evidence that viral load tends to correlate with the severity of infection. Reports also suggest the possibility of SARS-CoV-2 transmission from persons who are pre-symptomatic or asymptomatic. A highly sensitive diagnostic assay with the ability to detect low viral load is thus required to accurately detect the virus and assist in preventing the spread of infection. Automation and assay controls are effective tools to ensure robust results.
Availability of reagents and equipment
Labs report that supply interruption has had a significant negative impact, resulting in delayed results and decline in requests received over time. Vendors with a steady supply chain and a transparent view into this should be prioritized. Materials can be directly sourced from manufacturers who meet these criteria.
Processing capacity
Many labs plan to increase capacity by adding platforms, shifts, or expanding their workforce. Modular automation can help labs adapt to variable sample throughput and reduce exposure of staff to the risk of laboratory-acquired infections.
Sample-to-answer solution
Testing is a complex, multistep process. Suppliers offering a comprehensive, ready-made solution to implement automated SARS-CoV-2 testing can simplify life. A consolidation to an appropriate vendor can improve procurement efficiency and visibility to availability status of specialized reagents and equipment.
Support
The quality of support can be the difference between success and failure. A responsive support team can help guarantee a better experience by assisting in every step along the way from installation to analysis. Labs should work with suppliers they trust.